One of those basics for most of us is a kitchen serving tray. Think of all those things that need to be carried from the counters to the table. The ease of setting them all on a tray and just carrying the tray to the table is an advantage. Especially for a busy home kitchen.
Kitchen Serving Trays Also Decorative
The function of trays is a help to us, but they can also be decorative. That makes it easier for us to leave them out on our counters. When something useful can sit in a handy place, we tend to use it more often.
That's one thing that I really like about these kitchen serving trays. They look great sitting out in the kitchen. Match them to your decorating or theme and your tray plays double duty.
There are many, many designs to choose from. I've shown some of my favorites here. They are favorites because they work so well in just about any kitchen.
Great Designs, Great Function
With kids in the house, feeding them seems to be a continuous job. I use my serving tray to carry all the food items, eating utensils and extras to the table. Then collect the dishes and trash afterwards. This is a definite labor-saving device in my life.
Kitchen Serving Trays for Guests, Too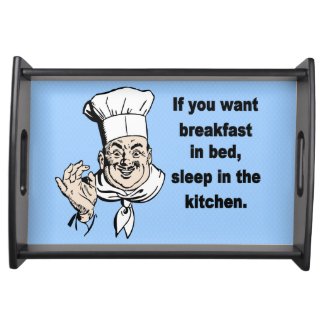 Breakfast in bed serving tray
by
AardvarkApparel
See
Serving Trays
online at Zazzle
Of course, we all have times when people visit. It's just so much simpler to use a tray to carry all the drinks, cups, mugs, snacks to our guests. When you're having a casual visit, just set the whole kitchen serving tray on your coffee table. No need to "serve" the guests. Let them help themselves.
The trays I've featured here are available in 2 sizes. The smaller size is 14.5 by 10 inches. There's enough room to hold plenty of kitchen items. But there is also the larger size that's 19 by 14 inches. Choose the size for both your needs and for your storage space.
We definitely want to keep our kitchen essentials handy, so if you want to set your serving tray on the counter, think about where it will go. If you need to put it in a cabinet, you will want to make sure it fits in a handy cabinet.